Here is the SCB Syllabus. This document contains everything you ever need to know and (until the webmaster catches up) supercedes all other information on this page.

Returning members:

First rehearsal is Monday August 21st at Rio Americano HS, 4540 American River Drive. If you enter the student parking lot at the corner of American River Dr and Saverien Dr, you will be looking at the new performing arts center. The band room should be on the right side of that building.
If you have registered already, thank you. If you haven't yet registered the fee for the whole year is $110. Pick one of the following ways:

Walk-in: to the Sunrise Tech Center campus at 7322 Sunrise Blvd, Citrus Heights (corner of Oak and Sunrise). No credit/debit cards accepted on-site.

Mail-in the attached form. The class section is: 64051.01. Class name is: Sacramento Concert Band.

Register online here:
Select 'Music' then 'Sacramento Concert Band' and click Register Now!. Ignore all the details about the class (days, location, no class days) they are wrong. It appears that the 'courtesy fee' for using a credit card has been dropped.

At rehearsal: See Les Corbin.
If you are NOT returning:
We are sorry to hear that, you will be missed. Please reply to this note so we can plan accordingly. Shirts can be returned before or after any regular rehearsal or to:
Jill Somers
4507 Northampton Dr
Carmichael, CA 95608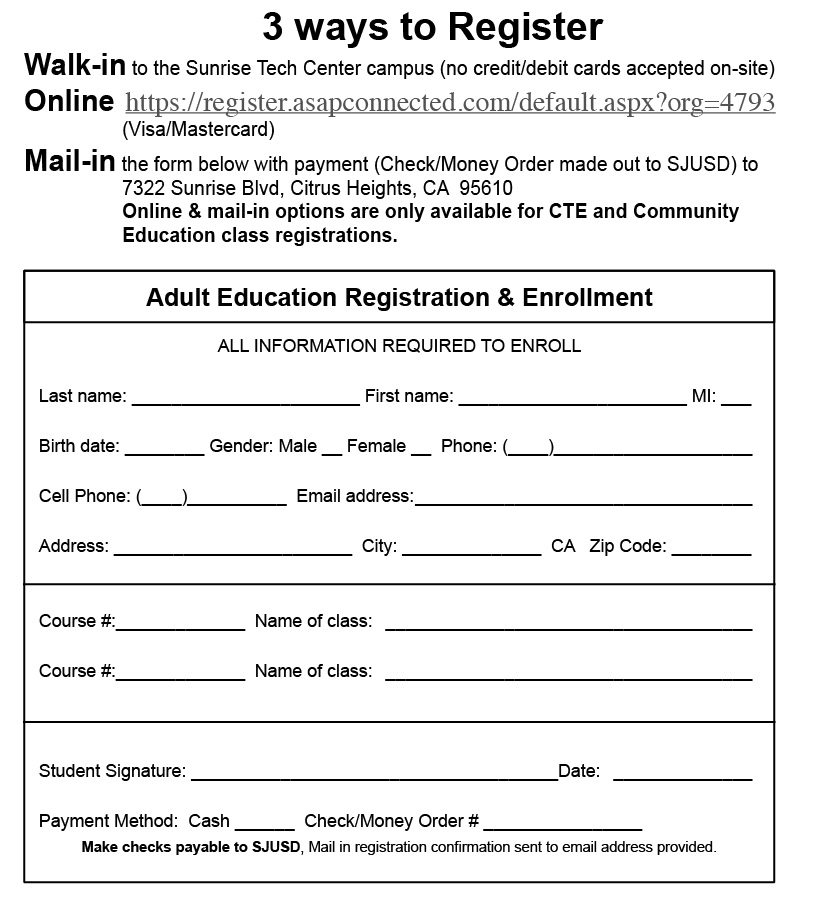 Band Member's Information 2017-2018 Season:

Monday night rehearsals 7:15-9:30pm, 15 minute break at 8:30, snacks provided, please donate for next week's snacks

No rehearsals on:
March 26 - Spring Break
May 29 - Memorial Day

Concerts/performances for the season:

Spring Concert: Sunday May 13, 2:30pm at Rio Americano
Memorial Day: Monday May 28, 10am at Home of Peace Cemetary
Carmichael Park BandFest... June 2 or 3, details TBA
San Juan Adult Ed Graduation: Thursday June 14, details TBA
(for experimentation and self-education)
CSS font-family
This is a paragraph, shown in the Times New Roman font.
This is a paragraph, shown in the Arial font.
This is a paragraph, shown in the Impact font.
NEW: SACRAMENTO CONCERT BAND SHIRT POLICY
Whenever possible men's and women's sizes will be available.
The color, fabric and style of the shirt will be decided by the SCB Council members and all others involved.
All band members officially enrolled in the class are to receive a shirt free of charge.
Shirts given to band members free of charge are to be returned should a band member leave the ensemble.
Members may purchase a shirt at a cost set by the SCB Council, in which case the shirt becomes the permanent property of the band member.
If a change in color, style or design occurs, members should plan to return the shirt for a no cost replacement.
A shirt that is replaced because of damage or a size change is free of charge the first time. A second replacement will be available at a cost determined by the SCB Council.
Shirts are to be provided for temporary band members who will be expected to return them.
---
Sacramento Concert Band Contacts
Grant Parker

blank

Jill Somers

Mark Perry

Director

space

President

Webmaster

916.204.0990

916.691.7632

916.837.9722

916.956.8863

grantaparker@att.net
Here are the Minutes of SCB Council Meetings and other Band business.
---
The Sacramento Concert Band is a member of the Sacramento Valley Symphonic Band Association and the Association of Concert Bands.
Grant Parker, Director

Jill Somers, Council President

Mark Perry, Website